Creating the material and library
After loading a drawing, you will want to use the property editor with an appropriate entity or primitive. In this example we will develop a material for the top-facing polygon of the roof. Begin by choosing "Edit > Properties > Polygon", then by selecting the roof polygon. Afterward the property dialog editor will appear (which looks like the following):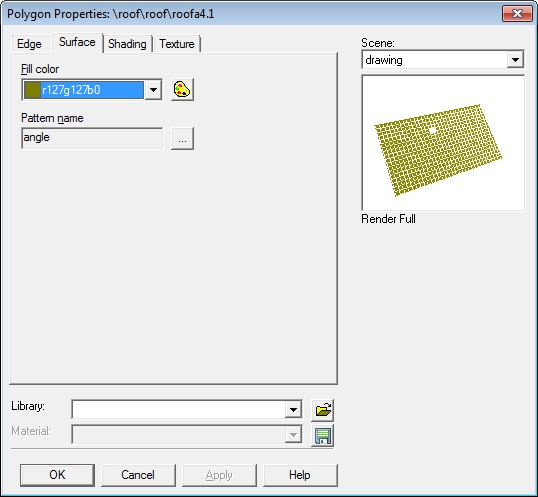 Property dialog for roof polygon
In the property dialog the major categories of appearance properties are organized into tabs, and only tabs applicable to the current selection appear. The edge properties control line colors, widths, and styles. The surface tab controls fill color and pattern. The shading tab controls rendering properties, and the texture tab controls how textures are applied to the surface.
After you make the appearance property changes you desire, you can save all of them as a material in a property library. You may also create new property libraries.
If you wish to work with an existing library you choose it from the list, or use the open icon to locate and open it.
If you wish to create a new property library you choose the save icon, which opens the "Save Material in Library" dialog. It looks like this: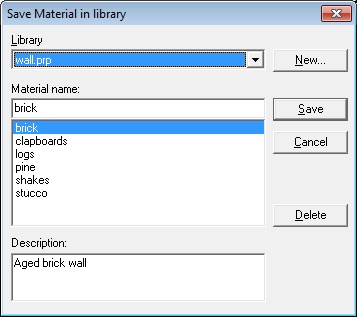 Material Save Dialog
To add a material to an existing property library you would select it from the "Library" list, then type in a material name and description and choose Save. To create a new library you would choose New, and provide the file name and location.
If you create a library called building, and then add a material to it called "roof_shingles" it will look like this: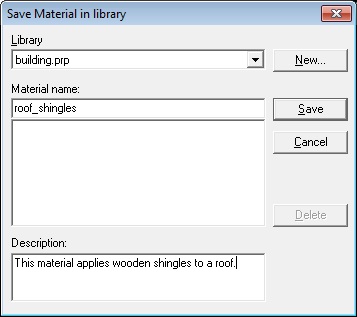 Roof shingles material in editor
Once you have taken these steps, the material will be available to the property editor and all of the properties associated with the material "roof_shingles" may be applied in one step.